Examination & Promotion
NORMS OF PROMOTION
'Education for wholeness through Faith, Love and Service.'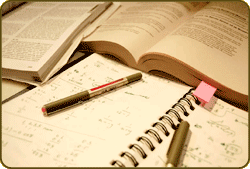 The school has two terms: April to September and October to March. There will be two summative assessments (Written Examination) for students of classes I to XII. Besides these, there will be regular class tests, unit tests, group work, assignments, project work, quiz etc which are called formative assessment.
Promotion to the next higher class will depend upon the child's overall performance which will include curricular, co-curricular and non-scholastic activities like games & sports, literary activities like debate, dramatics, elocution, recitation, dance and singing. Besides, his or her behaviour in the school, class room response, punctuality, regularity, creativity and the like.
Consistent neglect of any subject will not be condoned. Those students who are absent for any of the summative assessment will not be tested earlier or later.
Results declared at the close of the year are final in all, cases and will not be reconsidered.
Answer Papers of Annual Examination are not shown to the parents / guardians.
NORMS OF PROMOTION
Copying in an examination is a serious offence. No student is allowed to involve himself / herself either in copying or in helping others to copy. In such a case, the student will be awarded a zero in the subject.
Forging signatures in any manner is an offence. Tampering with marks and grades either on the answer papers or on the progress report is strictly prohibited. In such a case, the student will be awarded a zero in the subject.
Students must report to school in proper uniform on examination days, failing which they may be refrained from writing the examination, after proper warning is given.
Any other act of indiscipline which does not figure here, and is not acceptable to the school will be dealt with severely and appropriate punishment will be meted out to the offender.
The New Assessment structure and examination for Classes VI - VIII w.e.f. Session 2017-2018 [CBSE|RO|DDN|PA|2017]
Subjects
TERM-1 (100 marks)
(1st half of the session)
20 marks Periodic Assessment +
80 marks for Half Yearly Exam
TERM-2 (100 marks)
(2nd half of the session)
20 marks Periodic Assessment +
80 marks for Yearly Exam




















































Grading Scale for Scholastic Areas (Classes VI-VIII)
(School will award grades as per the following grading scale)
Grading Scale for Scholastic Areas (Classes IX-X)
(School will award grades as per the following grading scale)